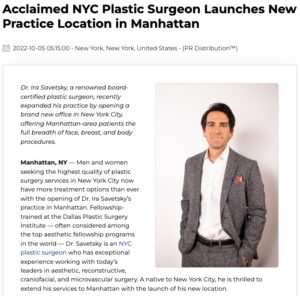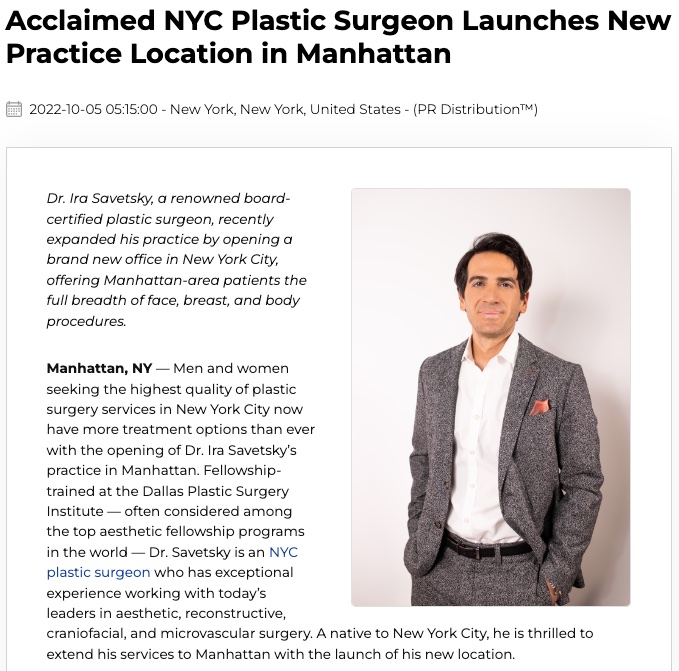 Dr. Ira Savetsky, a renowned board-certified plastic surgeon, recently expanded his practice by opening a brand new office in New York City, offering Manhattan-area patients the full breadth of face, breast, and body procedures.
Manhattan, NY — Men and women seeking the highest quality of plastic surgery services in New York City now have more treatment options than ever with the opening of Dr. Ira Savetsky's practice in Manhattan. Fellowship-trained at the Dallas Plastic Surgery Institute — often considered among the top aesthetic fellowship programs in the world — Dr. Savetsky is an NYC plastic surgeon who has exceptional experience working with today's leaders in aesthetic, reconstructive, craniofacial, and microvascular surgery. A native to New York City, he is thrilled to extend his services to Manhattan with the launch of his new location.
At Dr. Savetsky's practice, he offers the entire spectrum of facial rejuvenation, breast enhancement, and body contouring procedures. He is especially known for the natural-looking outcomes achieved with his facial procedures, including popular treatment options like rhinoplasty, blepharoplasty, and facelift and neck lift surgery. Patients seeking improvement in their breasts and body contour can also find solutions with procedures from breast augmentation and abdominoplasty to liposuction and a full Mommy Makeover.
The opening of Dr. Savetsky's new office coincides with the launch of his fully responsive plastic surgery website, which offers an in-depth look at the different aesthetic options available to reshape the body and balance the facial features. With the sleek, new site design detailing need-to-know information about the benefits, costs, limitations, and recovery timeline for each procedure, potential patients can seamlessly research their treatment-of-interest whether they're at home or on-the-go.
About Ira Savetsky, MD
Dr. Ira Savetsky is a fellowship-trained aesthetic plastic surgeon certified by the American Board of Plastic Surgery (ABPS). In addition to undergoing a rigorous plastic and reconstructive surgery residency at the NYU Hansjörg Wyss Department of Plastic Surgery, Dr. Savetsky has completed a fellowship in aesthetic surgery at the Dallas Plastic Surgery Institute. He is a published author, lecturer, and researcher, and serves on the editorial board of Plastic and Reconstructive Surgery. Dr. Savetsky is also a member of professional organizations such as the American Society of Plastic Surgeons (ASPS) and The Aesthetic Society. Dr. Savetsky is available for interview upon request.
For more information, please visit irasavetskymd.com or @drirasavetsky on Instagram.
Contact:
Ira Savetsky, MD
737 Park Ave, Suite #1C
New York, New York 10021
(212) 300-9863
Rosemont Media
(800) 491-8623
www.rosemontmedia.com