How you feel about the appearance of your breasts can largely impact your sense of femininity, self-image, and overall confidence. At his New York City practice, board-certified plastic surgeon Ira Savetsky, MD understands that the choice to undergo a cosmetic procedure is a largely personal decision and every patient has their own goals with regard to breast surgery. Whether your breast enhancement looks like attaining a more manageable breast size, restoring lost volume and fullness, or achieving a more youthful breast shape, Dr. Savetsky has the talent and specialized training to make your ideal results a reality.
By conducting an aesthetic evaluation of a patient's concerns while tailoring each procedure to their needs and wishes for the outcome, Dr. Savetsky can create your desired breast contours. He aims to ensure results from breast surgery appear natural while enhancing each person's silhouette.
Breast Augmentation with Implants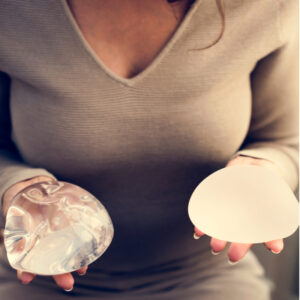 Breast augmentation is among the most highly requested and frequently performed cosmetic surgeries worldwide. As a fellowship-trained plastic surgeon heavily involved in research relating to the latest advancements in aesthetic procedures, Dr. Savetsky offers state-of-the-art saline and silicone breast implant options that produce elegant, natural-looking, and refined enhancement.
With breast augmentation, patients can add volume, correct asymmetries, attain a rounder breast shape, or reconstruct a natural breast after cancer removal surgery. Dr. Savetsky can utilize several techniques during the procedure, such as placing incisions around the areolas, or along the natural breast crease. He will work with you to determine the best possible incision placement as well as implant size, shape, and type. The outpatient procedure generally takes one to two hours to perform, and involves a recovery period of approximately one week.
Breast Lift
A breast lift is the leading cosmetic procedure to restore a more rejuvenated and youthful breast shape. Often referred to as mastopexy, breast lift surgery can reverse the unfavorable aesthetic changes caused by pregnancy, weight fluctuation, breastfeeding, and aging. The procedure is designed to reposition and reshape the breasts to minimize ptosis (drooping), improve projection, and produce "perkier" breast contours.
As an outpatient surgery, a breast lift typically takes two to three hours to perform. Looseness and laxity in the breasts will be corrected while the breast shape is tightened and refined. The nipples and areolas can also be raised/resized depending on whether the tissue appears stretched or pendulous. A personalized treatment plan will determine the unique details of your mastopexy. In the majority of cases, patients feel well enough to resume their normal routine — prohibiting strenuous activity — within one week.
Fat Transfer Breast Augmentation
If you wish to enlarge your breasts without having to place implants, fat transfer breast augmentation can be an optimal technique to produce a modest volume enhancement. Rather than insert implants, this procedure augments the breasts by transferring excess fat from another region of the body. Since your own tissue is utilized, the added volume is both natural and long lasting. Scar tissue development (capsular contracture) can also be less of a concern when compared to augmentation with implants.
With fat transfer, it's possible to soften the breast contours, balance asymmetries, restore fullness, or create a moderate increase in one's bust size without an implant. For this reason, fat transfer to the breasts is sometimes referred to as a "natural breast augmentation." The procedure is performed in two stages: the harvesting of fat cells from the "donor site" through liposuction, followed by reintroduction of the transferred fat into the breasts. Patients are usually able to recover from home after the outpatient procedure and often feel well enough to resume light daily activities within four to seven days.
Breast Revision
For some patients, the breast augmentation results achieved from another plastic surgeon may not align with their initial desires. If you're dissatisfied with the outcome of your enhancement, breast revision surgery can improve upon your original augmentation or correct complications that may have arisen throughout the years. The procedure is also frequently performed to upgrade a patient's implants to a newer type, shape, or size according to their desires.
The breast revision procedure is very similar to a primary breast augmentation surgery. Dr. Savetsky will work with you closely to better understand your concerns and expectations for the outcome. He will advise you throughout the entire process to help you determine the best choices to attain your surgical goals. Open and transparent communication during treatment planning and your consultation will be key to properly addressing your concerns and achieving the breast contours you desire.
Dr. Savetsky is phenomenal. He really took the time to listen to my concerns and answer my endless questions. He did an amazing job fixing my botched breast lift. I was so nervous and had a horrible experience with another plastic surgeon. I am so happy with my results. I love how he checks in over a year later and makes sure I am doing well and he really cares about you as a person. I highly recommend him.
Breast Implant Removal
There are many reasons why patients may want to remove their breast implants, ranging from personal preferences to the development of scar tissue. In any case, a breast implant removal or "explantation" procedure can extract your implants along with surrounding scar tissue to restore your natural breast appearance. In some cases, removal may be complemented with a breast lift to reshape the breasts, correct tissue laxity, and attain a more aesthetic result.
Breast implant removal is often performed using the en bloc technique, which extracts the breast implant and surrounding scar capsule as a whole. This can reduce the risk of implant leakage during the removal process. Other approaches — such as a total capsulectomy — may be utilized in lieu of the en bloc technique depending on your needs, and Dr. Savetsky will help you determine the best type of procedure to ensure safe and efficient removal of your breast implants.
Patient Before-and-After Gallery
Breast Augmentation with Lift
A breast lift with implants is a powerful treatment option that allows patients to attain the benefits of two highly popular breast surgeries, breast augmentation and mastopexy, at once. Whereas each surgery cannot enlarge the breast size and resolve drooping alone, this procedure can accomplish both goals in one treatment plan. Due to the range of aesthetic concerns addressed, a breast augmentation with lift is often considered the most effective technique to comprehensively rejuvenate the breasts.
A combined breast augmentation and lift procedure can be performed in separate stages or during one surgery. The mastopexy portion of your enhancement is typically completed first, followed by implant placement. Dr. Savetsky will guide you through the process of selecting your breast implants, determining the best incision technique, and choosing the ideal location for the implant pocket. The recovery period generally lasts one to two weeks depending on the exact details of your surgical plan.
Breast Reduction
When a dominant breast size begins to create unmanageable physical burdens and/or emotional distress, the decision to pursue breast reduction can be extremely rewarding. This surgery is designed to alleviate the stressors of living with heavy, pendulous breasts, such as back and shoulder pain, rashes, skin irritation, and an inability to lead an active lifestyle, among other debilitating symptoms. Breast reduction can not only make the breasts lighter and more comfortable, but the procedure also creates a more proportionate breast size relative to your body frame.
During the outpatient surgery, a reduced breast size is achieved by removing skin, fat, and glandular tissue contributing to the appearance of excessive breasts. This naturally creates the results of a breast lift to some extent, reshaping the breast contours and reducing pendulousness. The procedure typically takes three to four hours to perform and the recovery period lasts approximately one to two weeks.